This article is about the Derelict Freighter. For other item please see List of Map Objects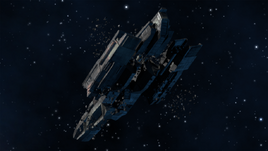 Be it sabotage, an attack, or just bad luck, this vessel isn't going anywhere. This half-destroyed ship could possibly still hide something of use. Never know what you may find on a wreck like this.


---
Message Received when visited : Searching through this freighter was bountiful and you obtained some valuable resources.
Effects : Give random amount of ressources
Highest reward seen (Based on player experience) : +5 Credits +5 Industry


---